Shree Ganeshay Namah
What is note-making in English grammar
Introduction
Note making and note taking are very important skills for students and professionals.
Here we will see what is note-making in English grammar.
What is note-making in English grammar?
Note-making is a focused and active writing skill including the concrete connection between all related concepts and words is drawn to connect all thoughts together by using points, tables, tree diagrams, and mind maps.
Styles of note-making
Tables, charts, bar charts, pie charts, flow charts, line graphs, tree diagrams, pictograms, mind maps, and plans.
What is note-taking
In comparison with note-making, note-taking is a passive process that is undertaken during lectures or speeches or reading books or any other reference material.
It is mostly in paragraph form.
What are the similarities between note-making and note-taking
1)Both provide material for easy reference, preparation, and study for exams or other purposes.
2)Both help students to remember facts easily.
3)Both help us to concentrate better and effectively.
Benefits of note-making
1)It helps to see each point clearly along with its link with each other.
2)Changing the notes made is easier in it.
3) Note-making helps for more understanding as it is in short form.
4)It helps the students n capturing the main key of the topic.
5) Note-making is hand-made or computer-typed form.
Format of note-making
1. Main heading
2. subheading
3. supporting details in the form of points
4)related keywords.
This is the basic format of note-making.
Things to avoid while note-making
1)Don't add your own points
2)Be specific and particular.
3)Don't omit important points.
4)Avoid creating illogical connections.
Now we will see some specimen topics for note-making
Specimen topics for note-making
Given below is a paragraph about literature. Prepare a tree diagram including main and sub-points.
The word literature is really hard to define. Many interpretations are made. Some say that literature is the mirror of life. Some others Say that it is the criticism of life. We can say that literature reflects life.
The branches of literature are poetry, drama, novel, and short stories. Poetry is of two types imaginative and realistic. Drama is either a comedy or a tragedy, Novel is also of many kinds historical, psychological, realistic, scientific, and regional. The short story stands very close to life but it has very little scope.
Now we will prepare a tree diagram of the literature.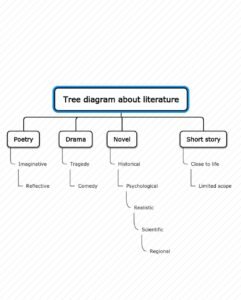 This is the tree diagram about literature which is an example of note-making.
Conclusion
I hope you have understood how to do note-making from the rough notes taken.
With love + respect from team learnhatkey.com